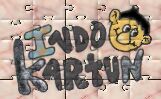 Situs Kartunnya Kartunis Indonesia
IndoKartun
IndoKartun.com is Indonesian owned website for cartoon and animation.
IndoKartun is currently an underground Indonesian Comic website with sole purpose to bring up the spirit of all Indonesian artist to leverage their skils and their hidden talent and open the door to create the true Indonesian's potensial in cartoon and animation art.
Most of the language used in this website will be in Bahasa Indonesia.
Office Address:
Currently Virtual Address - www.indokartun.com
Jakarta - Indonesia
For communications related to IndoKartun, please do not hesitate to contact ardisama@yahoo.com